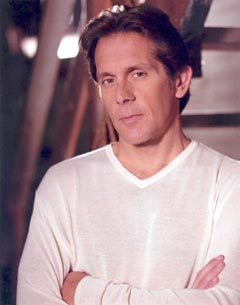 From NBC Media Villiage:
BURBANK, Calif. -- August 19, 2003 -- Award-winning actor Gary Cole has been cast in a recurring role as the new Vice President on NBC's drama "The West Wing" (Wednesdays, 9-10 p.m. ET). Gary Cole plays Robert Russell, aka "Bingo Bob," a Congressman from Western Colorado who has some surprising plans for his new role in the White House. Cole will make his series debut in the third episode.
The veteran of more than forty movies, telefilms and TV series, Cole is currently shooting the upcoming feature film, "Win A Date With Tad Hamilton." He starred in the feature films "One Hour Photo," "A Simple Plan," "The Gift," "I Spy" and "Office Space." He continued to reprise his spot-on send-up of the family patriarch in the feature films "The Brady Bunch," "A Very Brady Sequel," and "The Brady Bunch in the White House."
On television, he became well known to audiences for his starring role in the NBC television drama series, "Midnight Caller." He later starred in the NBC mini-series "Fatal Vision," and the mini-series "Son of the Morning Star." Cole provided character voices for several animated series including "The Family Guy;" "Kim Possible" and "Harvey Birdman, Attorney at Law." He starred in the thriller series "American Gothic" and the award-winning mini-series "From the Earth to the Moon." Most recently on the small screen, Cole starred in the series, "Family Affair" Cole recently guest starred on the television series "Monk" and "Hack."
Cole starred on stage in the Chicago theater productions of "Closer," "Cat on a Hot Tin Roof," "Balm in Gilead," "And a Nightingale Sang," and "Bang!," for which he won the Joseph Jefferson Best Actor Award for Chicago Theatre Excellence. He tackled Sam Shepard's "True West" in New York and Los Angeles, and last year, starred in a production of "The Collected Works of Billy the Kid" at the La Jolla Playhouse in San Diego.
Now starting its fifth season, the sophisticated, one-hour drama series stars Emmy winner Martin Sheen ("Apocalypse Now"), Emmy winner John Spencer ("L.A. Law"), Emmy winner Bradley Whitford ("My Fellow Americans"), Emmy winner Richard Schiff ("Deep Impact"), Emmy winner Allison Janney ("American Beauty"), Emmy nominee Dule Hill ("Bring in Da Noise, Bring in Da Funk!"), Emmy nominee Janel Moloney ("Sports Night"), Joshua Malina ("Sports Night") and Emmy winner Stockard Channing ("Six Degrees of Separation").
"The West Wing" is from John Wells Productions in association with Warner Bros. Television. John Wells is the executive producer.